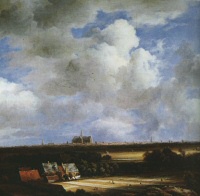 Sunday we visited the Mauritshuis in The Hague. The Mauritshuis is a museum with a large collection of old paintings, mainly from Dutch artists.
We were inspired by the movie we saw a few days ago: the painting "Girl with a pearl earring" is in the Mauritshuis. We had a very nice afternoon. There were some paintings by Frans Hals and Jacob van Ruisdael. I saw a picture of "View of Haarlem with bleaching grounds" in a book a few weeks ago, and I really enjoyed seeing it now in real.
I am now waiting for papers to be processed. It will be another four weeks before I know more.