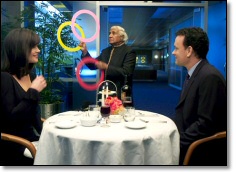 Yesterday evening we went to the movies, to "The Terminal" in Cinema Palace.
The movie is about Viktor Navorski, a traveller from a fictional Eastern European nation who gets stuck in an airport in the US after a military coup in his native land. His passport, issued by his previous government, is no longer valid and he has to stay on in the terminal of the airport for months to wait for the political situation to change.
The character of Navorski, played by Tom Hanks, is wonderful. It's a very sweet guy, who is a total stranger in the US. To our great surprise Tom Hanks was speaking Bulgarian, and in fact his whole character was Bulgarian. His language, some movements, his jokes and the whole behavior were typical Bulgarian which was very nice to see.
It was a great movie; sweet and with a happy end. Personally I loved the older guy from India who Navorski meets on the airport.