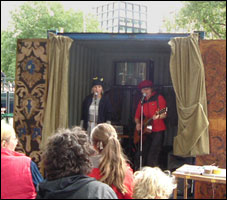 This afternoon Jelly and I went to the Uitmarkt in Amsterdam.
We had a great time, even though the weather was a bit depressing. We listened to a Portugese fado band and saw a theater group called Dogtroep, among others.
We had a Suriname roti sandwich for dinner, and we spent quite some time on the book market.
It has been seven years since the last time I was at the Uitmarkt; then it was still at the Waterlooplein. The new location, at the Museumplein and Leidseplein, was much better than I had expected.