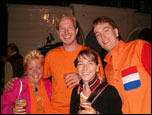 Yesterday we watched the soccer game between Germany and the Netherlands in the Goethe Institute. I was there with Rene, Suzanne and Noortje, people from the German course I'm doing. Our teacher Sandra and her little son were there too.
The Goethe Institute had invited around 100 people to come and watch the game, and all the tickets had been sold out. There was a large number of TVs and screen throughout the building, as well as in the garden. On the first floor there was a video projection in the main hall.
I had a great evening. Everything was very well organized -- leave that to the Germans! The atmosphere was excellent and we had a lot of fun together. The soccer game was very exciting. Germany scored in the first half, which made half-time a uncomfortable. I think most Dutch fans were quite relieved with the final result, a 1-1 draw!
I took my camera, and there are some pictures online of the Samen kijken experience.