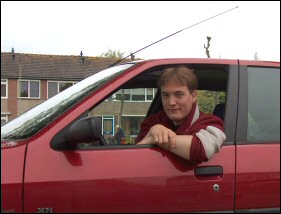 Today I had my first driving lessons!
My father and I went to the Cultuurweg, a quiet dead-end street, just outside Middenmeer. There was no traffic there at all, but it's a longer road so it was an excellent spot to start driving.
Years ago I once drove my parents' car a bit, on a parking lot in Wieringerwerf with my mother, but that's about all the experience I had with driving a car. I never really needed a driving license, but now I want to start taking driving lessons.
Today was really fun. First I learned how to start the car. Then I drove a bit in first gear, and learned how to use the gear-lever to get to the 2nd and 3rd gear. The highest speed I drove with today was 50 km/hour, but I can assure you that that felt really quick. I trained a lot on turning the car around, and later I also started to "park" the car on various locations. It's really fun to drive a car, I found out.
I'm not sure exactly when and how but somewhere in the next few weeks I want to either start taking regular driving lessons or perhaps take a full-time course to get it done quickly.