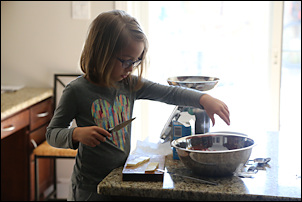 Nora and I had a great time cooking together. It is great hanging out with her. For the first time, her help was actually saving me time.
She, very carefully, put together the speculaas mixture. Measuring, scooping, mixing... everything diligently and carefully done. Later she measured and cut the butter.
We made speculaas cookies, a speculaas cake, and several dishes for today's big meal.
The Zane family arrived around 8.00 pm --- just as we were putting the kids in bath. All of a sudden Julian appeared in the hallway.