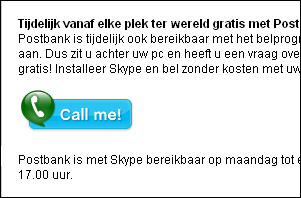 The Postbank, my Dutch bank, is introducing a new centralized phone number. It's a 0900 number though, which I can't dial from the United States. Neither Skype, calling cards nor my new phone support dialing these special numbers.
Fortunately, the Postbank is a really cool bank and has an experimental Skype number. I called it the other day, and it works great.

The skype name is postbank_jongeren. In addition to that, they also have a regular phone number that can be used when calling from abroad.