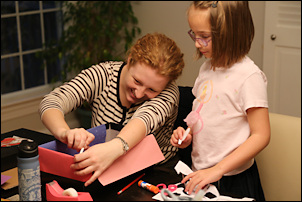 Eva arrived today! She is joining us for Thanksgiving and she traveled from Chicago today. In the morning she went to the Dutch Embassy, and in the afternoon she came to Arlington. Eva and I picked up Nora from the bus -- Nora loved it. She jumped up and down and pretending to be shy but then they walked home hand-in-hand.
We made a Sinterklaas kijkdoos together and in the evening when Sasha came home we to Pilates the three of us. At night Eva read a story to the kids, and more went they went to bed (though Adrian insisted to be read by me).
It's great to see her, and an excellent start of the holiday.