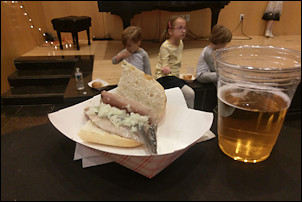 We went to the Haring & Paling event at the Dutch Embassy last night, always a nice event. We had a really good time together, enjoying the good food and having a relaxed dinner. The kids loved the sandwiches with Dutch cheese and vlokken and Adrian even had a haring sandwich which he liked a lot.
Nora did all the ordering of our food and drinks for us, which went well, and the kids played with another Dutch girl they met.
We bought vlokken, drop and a package of herring to take home.