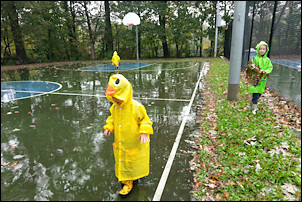 Halloween is a big event in our house... today we went to get Nora's new outfit. The boys received a nice fireman costume from Oma & Opa in the summer, so they're all set.
We went to the Party City store on Columbia Pike. It was busy but not crazily so. Getting there was a bit of an adventure though -- the car didn't start! It seems like there's a problem with the battery. I took my bike to Cherrydale Auto Parts and got a jump start pack, and that did the trick. We didn't need it on our way back from Party City but I'm going to bring it in for service for sure.
Nora choose to be a witch, with a black hat and a broom.
Earlier in the morning it was raining and we went for a walk in Hayes Park, collecting acorns.