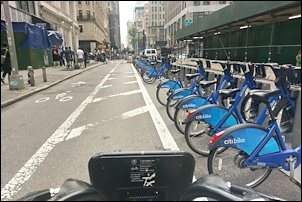 My afternoon appointment was in downtown Manhattan, about 50 minutes by bicycle from our mid-town office.
It was a little intimidating at first, but it was a lot of fun to see the new infrastructure along Broadway. Long stretches of that street have nice, bike-friendly intersections and clear bike lanes. Closer to downtown things become more chaotic -- there were a lot of cars parked where protected bike lanes could be built. But that's the Dutchman in my talking -- the American in me is quite impressed with what has been achieved so far.
Using the Citibike was interesting too. In the beginning the saddle was a little wobbly but I managed to tighten it up. New York is nice and flat so that helped.
My trip took 52 minutes, cost $6 and was 6.5 miles.