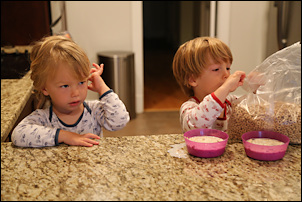 We went to bed late after going for a walk along Key Boulevard, watching the Halloween decorations. The boys, thankfully, slept in so I brought Leo downstairs at 7.30 am. We read a book and then Adrian woke up, so we read another book together. That's a dangerous thing to do, because the clock starts ticking between waking up and breakfast. If the gap is too large, the boys get really cranky and will starting fighting with each other.
We were right on time this morning and we started breakfast without any incidents. Nora took the opportunity to sleep in, she wasn't downstairs until 8.45 am -- good for her.
Last night, when we were done watching the decorations, we drove back home and we passed the Silver Diner. Adrian said: "Dag hamburger! Dag broodje! Dag kaas! Dag saus!". After that the boys had a funny discussion about whether the "saus" in question was ketchup or not. "Ketchup scherp. Adrian nee ketchup. Meneer geeft saus". Leo: "die meneer heet ober." "Nee ober!" "Wel!" "Wel ober."