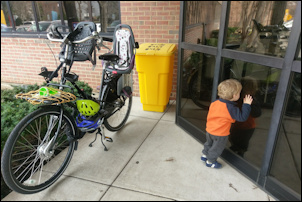 Adrian has an ear infection again. We all had colds last week, and he couldn't sleep yesterday from the pain. So this morning I took him to the pediatrician.
First we all went to Hayes Park with Baka and Mia, and when it was time for Adrian and I to go I told him we would go by bike -- he was very excited so getting him to leave the playground was easier than normal.
It's a gorgeous day today, 70 degrees Fahrenheit. It's kind of weird for February but we enjoyed it.
The pediatrician saw that both his ears were infected. We biked on to CVS, got the medication and then back to home where he got a well deserved sandwich with cheese. He was very tired so halfway his lunch he said "slapen, slapen" and I brought him in bed.
When everybody was asleep Nora and I started working on the werkboekje from Veilig Leren Lezen. We spoke with Ettie and family for a little while (Nora wanted to know which "kern" Jasper was on -- number 7, he said).