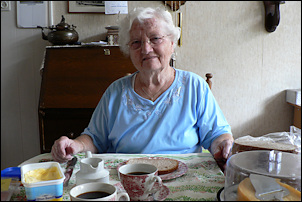 Today Oma Bosman passed away. She was 91 years old.
Oma was a wonderful grandmother to us and we loved her very much. The happy times we spent with her are precious memories.
My earliest memories were about reading Suske and Wiske, and eating "oma kaas" for breakfas. Later, drinking tea together and just having a good time. Peter's picture here captures it very beautifully.
When I was older, we would go for dinners at her place and talk. She visited Sasha and me in Haarlem with Paula, bringing nice plants, and she came to my graduation party.
The last time I saw her was in 2014 when we visited her. While calling become impossible later on, for many years we would talk on the phone and she would always pick up the same way: "Oh, helemaal uit Amerika?". I'll miss her.