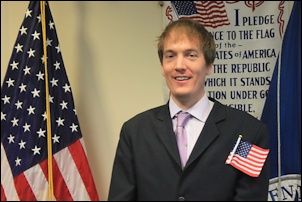 Together with about 80 others from 24 countries I became a US citizen today at the USCIS offices in Fairfax.
It was a beautiful naturalization ceremony, but efficient. We started at 2.00 pm and were done before 3.00 pm. Eric, Ginny and Judy were my guests and afterwards we had a slice of mocha cake at home.
When I came to the United States in 2003, I was working using an H1B visa. I applied for my green card in June of 2007, and we received the green cards about a year later.
Sasha became a U.S. citizen in September last year. Around the same time I went for my biometrics and then in December I had the formal interview.