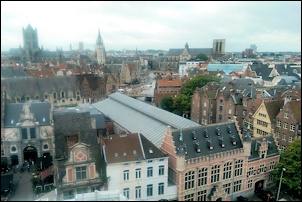 Sasha came back from Bulgaria on Wednesday and Jaap and I went to pick her up from Schiphol. She had enjoyed 30+ degrees and sunshine in Perushtitsa and the mountains.
Train trip through Alkmaar, Amsterdam, Roosendaal, Brussels and Ghent
On Thursday morning Jaap brought us to Alkmaar where we took a train, the first in our trip to Ghent, Belgium. Nora was in good hands and didn't mind at all that we were going to leave her for a few days with Opa and Oma.
The journey was fun. We took trains from Alkmaar to Ghent. In Amsterdam we walked around for a little bit at the station. We had to take a detour on Thursday due to an accident near Sint-Niklaas so we went through Brussels. We decided against the high speed Thalys train since it requires a reservation and we didn't want to fix our travel plans, so we crossed the border in an old Belgian stop train. The other trains were newer and faster, especially enjoyed the double-deck trains. The Dutch trains are great and have excellent free Wi-Fi that even tells you which train you are in and what the next stop is.
In Ghent
On Friday we visited the Saint-Bavo cathedral, a magnificent building. We saw the Aanbidding van het Lam Gods. The crypts were very impressive. Some parts were about 1,000 years old.
We also went into a comic book store. Very cool to see that, reminded me of the Guust Flater comics. In a bookstore we saw that "Huppel" is indeed Belgian and actually part of a series.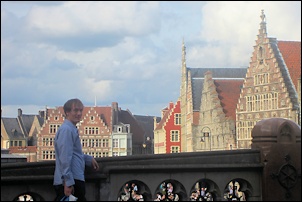 We went to the area near Ghent University again in the evening and tried several different croquets in a kroketten restaurant.
On Saturday we visited the castle near our hotel, Gravensteen. It was interesting to see the history of the building, from student occupation before World War I through significant renovations that required the year-down of buildings that were built on top of the remnants. The exhibition of torture instruments was a good reminder of the progress of civilization and we didn't stay long in those rooms.
We had dinner twice in a brasserie called 't Klokhuys. Funny enough, it meant house with the clocks -- not, as I expected, the core of an apple. Loved the local food such as waterzooi, steak tartare, kaaskroket and of course Belgian beer.
Ghent is a great city and we really enjoyed our stay. We did a little bit of shopping too. There were several nice bookstores and on Saturday we stumbled across an annual flea market. Bought 4 children's books there for Nora, and enjoyed browsing the stands. I also bought a 2,5 kilogram book (5 lbs): the latest edition of Ons Kookboek, a classic cookbook with Flemish recipes. We managed to fit everything in the suitcase.
Train trip to Haarlem
The trip back went smoothly. We took a streetcar to the train station and from there various trains to end up in Haarlem. Since it was a Sunday there was maintenance being done so the connections weren't as good as they normally would have been.