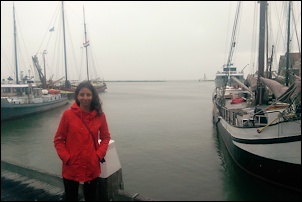 On our first weekday of the vacation we were still a little groggy because of the time difference. Nora had a cold and didn't sleep very well.
Sasha and I went to see Hoorn, an old city nearby. I used to take the train from there all the time but it had been years since I visited the historic city. It is a very pretty and well preserved town. The weather wasn't great but no major rain either.
We caught the last hour of the Kermis, the fair, and most shops and restaurants were closed because of it.
We found a great place for dinner in an Indonesian toko and I loved sampling all the different dishes. They also had spekkoek.