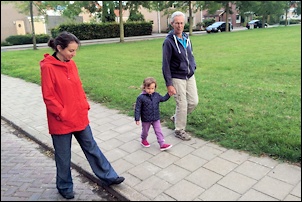 When we arrived in Holland, Nora immediately learned that people in the Netherlands speak Dutch.
Nora likes to describe the things that she sees around her, especially people. When we arrived at the luggage claim she said -- "die meneer maakt de trap schoon" and I concurred "ja, die meneer maakt de trap schoon". Then he actually answered her! "Yes, I am. Do you want to give me a hand?" Nora was quite surprised that someone understood her.
It was great to see my parents, and it was very special to see them and Nora reunited. Nora wasn't shy at all, and kept talking on the way to Middenmeer.
Once there we slept two hours -- just enough to take the edge off from the skipped night -- and before dinner we made a nice walk. There was the Havenfeest, an annual event, and we had a good time. Nora got a slice of cheese, amazingly delicious, from a kaasboer and later a balloon. We bought some diapers and drop from the drugstore. I saw Vincent, an schoolmate from my elementary school. We were very tempted by beautiful tulip bulbs but bringing them home might be impossible.