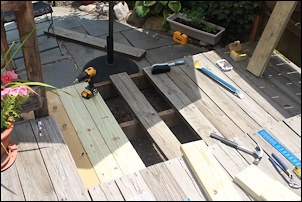 Today I replaced 15 boards of our deck, the smaller part at the entrance of the backyard.
Our deck is from 1996 but the wood hasn't been cared for very well so some of the boards were cracked and splintered. The main deck is in better shape, thankfully.
It was a fun project to replace the boards but it was hard work. I started at 11.30 am and finished around 6.00 pm. Milan helped me get started and I'm proud of the end result.
The most exciting part was at the end, when I had to cut a board to fit in a smaller opening. I used my own circle saw for the first time.