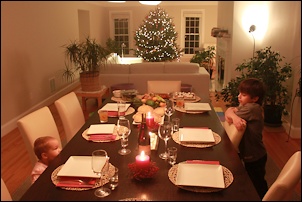 Yesterday I took a day off. In the morning Nora and I had a lot of fun. After breakfast and talking to Opa and Oma we went to the pediatrician to pick up a letter, and then to the bakery. Heidelberg bakery is always a nice destination, and with Christmas is it very festive. There was live accordion music. Then to the supermarket.
In the afternoon Sasha came home early and we prepared our budni vecher meal. The Zane family arrived a few hours later and we spent a great evening together.
Budni vecher is always a special meal and evening, and we had a nice selection of vegan dishes. Surmichki, two types of beans and salads. We made three pitka's: one big bread and two small pitka to break. In our family Sasha got the coin -- Julian was the lucky one at the Zanes.