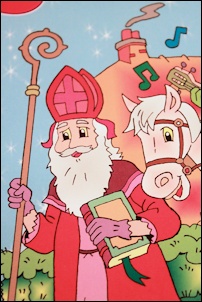 I have very fond memories of celebrating Sinterklaas with Ettie and my parents. Sinterklaas is a winter holiday celebration around the Saint Nicholas figure that is very popular in the Netherlands. When we lived in Opperdoes we would go see Saint Nicholas at the community center, where we'd get pepernoten and clementines.
I haven't celebrated it in years but now Nora is old enough to participate old memories started to creep back up and so this weekend we are going to the St. Nicholas celebration at the Dutch Embassy.
The tradition holds that in the weeks before December 5th kids can put their shoe in front of the chimney in the evenings. Nora put her shoe in front of our fireplace last Saturday and we sang two songs. I explained her the ritual and she sort of understood it. The next morning (after a rather rough night) we went downstairs... and there were presents!
Nora smiled when she saw them -- but she was also shy and didn't want to get near the fireplace without us. After breakfast we sat on the carpet and Nora opened her gift: a beautiful coloring book about Sinterklaas. She was quite impressed with the whole thing.
Thank you very much Ankie and Joost for making her first "schoen zetten" a big success!