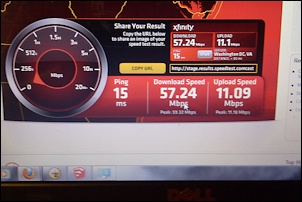 Tonight I pulled the coax cables from our garden into the basement, where the cable modem will be. There was already a hole in the basement wall which was used for 4 coax cables to the roof where an old satellite dish stands. We won't use that so I disconnected them and reused the opening for a new coax cable, connected to the Comcast cable outside.
I grounded the cable where it enters the house using a copper water pipe and then sealed the hole with caulk. It was the first time I've used caulk and it was fun.
Once everything is done there will be an ethernet connection from the cable modem in the basement to a wireless router in the living room, providing coverage for the whole house. I ordered the cable modem from Amazon so we don't have to pay a monthly rent for the modem. After the cable work was done the activation of the actual connection was easy. We signed up for 50Mbps/10Mbps, which is faster than what we have now.