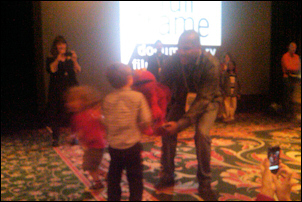 What a festival! The film selection this year was very good.
On Friday morning I saw Hot Coffee, an interesting doc on product liability and mandatory arbitration clauses (7). We saw several films together that day:
- "How to Pick Berries" about Thai people picking berries in Finland. Very current, with the elections in Finland last week. (6)
- "When China met Africa", about Chinese companies investing in Zambia. Great characters. (8)
- "Gun Fight", about gun-rights in the United States. Well produced. (8)
Saturday morning we saw:
- "Universal Language", about Esperanto. It was an okay documentary, but it was fun to see Texel, the Netherlands, where there is a monument for Esperanto (6).
- "Unlikely treasures" was very enjoyable, about people collecting useless things. (8)
Sasha left to the UK, and I went back to the festival.
- "Tugs" was nice, but way too short. (6)
- A highlight was "Being Elmo", a film about the life of Kevin Clash, the puppeteer behind Elmo, the popular Sesame Street character. Kevin Clash (and Elmo) where in the theater, and he was warmly welcomed by the audience. (9)
- After such a fun movie it was a big switch to see "Scenes of a Crime", about a man who after 16 hours of interrogation committed to a crime he may not have done. (8)
On Sunday I was in line for the award winners at 12.15 pm, nicely on time.
- I saw "Caretaker for the Lord", a lovely short about a church in Scotland that is closing. (9)
- "We Still Live Here", about a woman who introduces her ancestor's lost language back to the community. (7)
Had a quick dinner at Tyler's. It was a beautiful Sunday afternoon and it was great to sit outside. There was a Bulls game later that afternoon.
- "The Interrupters" was very impressive, a great film. It was long, but with the richness of the movie that was not a problem. Amazing contrast between living the inner cities and the suburbs. (9)
- Closed the festival with Il Capo (7) and "Buck", the audience award winner. (8)