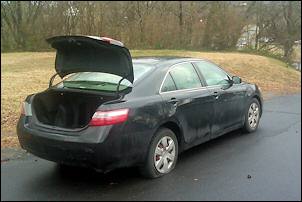 Today I had a flat tire, for the first time in 90,000 miles.
I was driving on the Durham freeway when I heard a strange noise, and after a few moments I realized that something was wrong with the car. I couldn't quite tell what it was. I left the freeway, and thankfully there was a parking lot right at the off ramp.
I called AAA roadside service, and within 45 minutes someone came and replaced the tire with the emergency one. It actually didn't look too difficult, and if it ever happens again I might try it myself. I went straight to the car dealership to get a new tire installed.