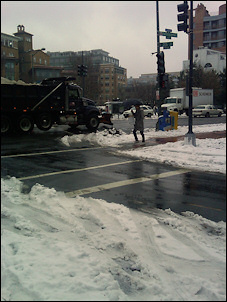 Thursday I took the afternoon off and we drove to Washington. Sasha gave a presentation there on Friday, and I worked from the hotel.
We were lucky with the traffic. On Wednesday there had been a big snowstorm and thousands of people were stranded for hours on the highways. On Thursday things were fine, and since many people were working from home there was little traffic. In the evening we had dinner in a place that Obama and Medvedev once visited.
Friday evening I went to Mackey's Pub, a few blocks from our hotel, where some 40 Dutch people met for drinks. I met a lot of different people and had a great evening. There were several Americans who were learning Dutch, and took the opportunity to practice. The organizers even arranged for bitterballen, made by a company in Atlanta.
We drove back on Saturday, and made a beautiful detour through southern Virginia in the afternoon.