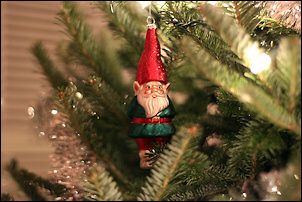 Today we decorated our Christmas tree. We're not completely done yet because we don't have the small hangers for the balls, but we've put the lights and the garlands.
I'm very happy that we have a tree; it's the first time since 2006. It's been a long time since we celebrated Christmas at home (last year we were in Somerset) and I really enjoyed going out and buying a tree.
Friday night we went to Macy's and we bought two new ornaments, including a kabouter!
More pictures when we have the balls and other ornaments in the tree.