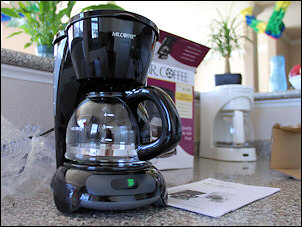 The temporary apartment we're staying at in Somerset is furnished, and many kitchen utilities are included. This is convenient. The coffee machine though, makes truly terrible coffee and we often resort to getting coffee from Starbucks or from the office of our apartment complex.
This morning we're having coffee from the new machine we ordered on-line: such a difference. It's small, for 4 cups, and makes great coffee.
If you look closely, you can see my reflection in the coffee pot and the filter holder.