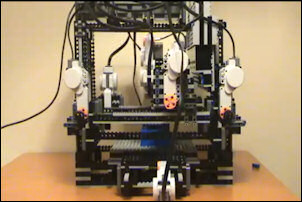 Wired had a fun video today about a machine, made from Lego, that can build Lego objects.
http://www.wired.com/gadgetlab/2010/10/legobot:
"Here's how the MakerLegoBot works: A feed system that's about two-and-a-half feet tall and can hold about 35 bricks connects to the LegoBot. The object that the MakerLegoBot is to assemble is designed in MLCad, a modeling program. A Java app that runs on a PC takes the file from the MLCad software, determines a set of print instructions and sends those instructions over USB to the LegoBot.
The machine retrieves a brick from the feed system and places it in the exact location where it should be. It uses an axle-based release mechanism to leave the brick in place."