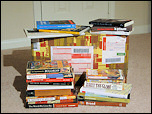 Here I keep track of some of the books that I've read, often with a short review and some personal thoughts. These are only a selection since I read a lot more books for work.
I like to read book in their original languages where possible: French, German, Dutch, English and I even read three books in Bulgarian. Here is the list of books I'd like to read. See also books about technology or management, and my all-time favorite books.
I'm an engineer, and enjoy science fiction novels. Some of my favorite authors are Vernor Vinge, Terry Pratchett and LE Modesitt Jr. No overview of my reading habits would be complete without mentioning The Economist -- I love that magazine.
Books below are in order of date read; this overview starts in October 2002.
Pages