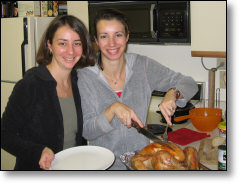 Early in the morning I went to do some last-minute shopping for our Thanksgiving dinner. It was quite busy in the supermarket and it was good news for my fellow shoppers that there were still a lot of turkeys left.
We had breakfast the five of us and soon after breakfast we started preparing the turkey. We had never cooked a turkey before but with Irena's and Jonathan's help everything went smoothly. It's a 12 pound animal so it would take a couple of hours to roast.
In the afternoon we went for a walk to the Iwo Jima Memorial and the Netherlands Carrilon while the turkey was slowly getting ready.
After having a small bite for lunch we continued the dinner preparations. That was fun, and we made all the traditional dishes: mashed potatoes, preparing the stuffing and other sides. The stuffing is essentially pieces of bread with seasoning.
The turkey came out really well! We had a great dinner (I really like the cranberry sauce) and it was really cosy. We finished the dinner with a blueberry pie and chocolates... a Thanksgiving in the finest "stuff your face" tradition.