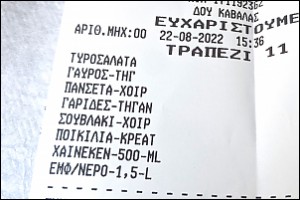 We spent two hours at Antonio's Beach this morning. Leo and I tried snorkeling but there wasnt much to sea and the water cloudy, so we swam instead. The kids made friends with a small Romanian boy while make their sandcastle.
Around 2 pm we left for Potos for lunch. Were turned to Taverna Laskarina because the food was so delicious there. The chicken souvlaki in particular is outstanding. Sasha had European anchovy which was delicious, kind of a bigger version of цаца. Leo had grilled large shrimps, Nora her souvlaki and Adrian the pork ribs.
There were no "mistakes" on the check, nor attempts to sell 1-euro-per-slice bread, which was refreshing. The waiter explained that the chicken souvlaki was marinated in olive oil, paprika, salt and pepper, prepared the night before.
Tomorrow we are driving back to Bulgaria so we did some last shopping. The kids are now in the pool at our hotel.