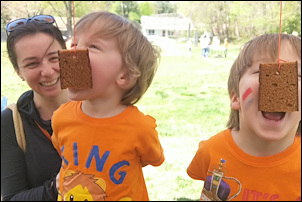 Today we went to the Koningsdag celebrations at the Dutch school in Bethesda. This was the first time for Leo and Adrian, and though they are still little they had a good time.
The first 30 minutes or so I always spend in a frenzy looking for a Dutch children's books. The boys thought that the toys for sale were all for playing so that caused some tension, haha. Later we did several games together. A new one this year was koekhappen and that was fun! Adrian was the best in that game. Nora later tried steltlopen and Sasha took a picture of the 4 of us in traditional gear.
The weather was gorgeous and after the games we went to the playground where we had a quiet lunch together. A lovely morning. This is such a nice event. Last year we were there with Joost and Ankie.