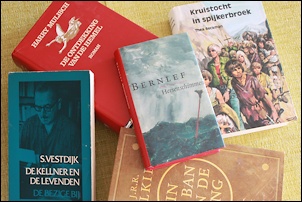 A few weeks ago I installed book shelves in our living room. Finally a place to put our books, and finally an opportunity to get a copy of some of my favorite Dutch books in print.
It's relatively easy to buy electronic Dutch books — but for some of the great books it is great to have a physical copy.
The package with books included Hersenschimmen, De ontdekking van de hemel, Kruistocht in spijkerbroek — a childhood favorite — and De kellner en de levenden.
Also, the Dutch version of the Lord of the Rings. I have a "rule" for myself that I will read books only in their original language, but for Tolkien I make an exception. When I was little my father read The Hobbit and the Ring to me, in Dutch obviously, so Dutch it is.
The package also included several books I haven't read, so that will be fun for the next months and years.